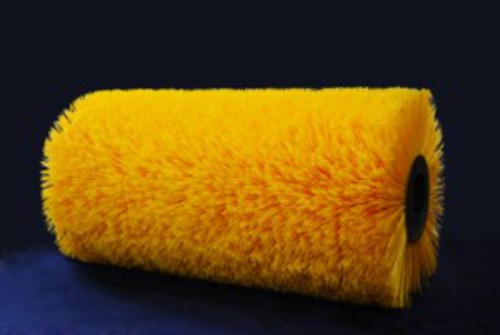 The reliable cablewrap broom.
Approximately 80% of our customers choose the cablewrap broom when it is an option for their sweeper.  This is because:
- More bristle for the dollar
- Less labor and less cost to install
- Fully assembled, easy to install
- Reusable cores are maintained by Zarnoth at no charge to the user
- Cores are on a loaned basis for municipal sweepers
- No charge if returned
- Environmentally friendly, no disposal costs
Every worn municipal tube broom results in 50-80 lbs. of steel going into a landfill.  The cablewrap steel cores are re-used; the small amount of bristles left are unlocked, removed, and fully recycled.
Bristles of a cablewrap broom are held firmly in place in a deep steel channel with 3/8" cable.
To allow you to have a spare broom in stock, we will rotate brooms.  After you change the broom, we will stop by to pick up the used broom to refill again.  No charge for deliver or pick up within our territory.
Give the cablewrap broom a try!  Very cost effective.
Free and prompt delivery within our territory.

For more information, call
1-800-437-1697 or 920-849-4525.