Zarnoth
Brush
is
all
about
providing
a
service
to
you!
Starting in 1949 at a time when each municipality struggled to fill their own sweeper brooms, Zarnoth Brush grew based upon a need for a more cost effective way to sweep streets. Since then, Zarnoth Brush has been dedicated to helping our customers get more productivity from their sweepers.
Our philosophy is still the same - working together to meet your needs in the most cost effective way. With many choices of broom styles and filaments, you can rely on Zarnoth Brush to offer you the whole realm of options in the broom market.
Our primary objective is to provide you with reliable products and services that will consistently deliver the highest levels of productivity.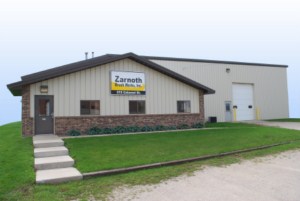 We know the success of your business or the accountability of your municipal budget depends on working quickly and efficiently. When you choose Zarnoth Brush, you gain a partner in reduced downtime and more work accomplished.
Committed to serve, our customers know Zarnoth Brush will live up to their expectations - just ask your neighbors in the sweeping field. Our attention is spent on serving the Midwest as far as we can drive with our own trucks - and serve them well.
Zarnoth Brush Works is an equal opportunity/affirmative action company.